Lone Grove is one of the first levels that is healed entirely by merging objects next to identical ones on dead land, which pulls those objects off dead land to instantly heal it, while also triggering "Heal Extenders". Done correctly, it is a rather quick level.
Walkthrough
Edit
Step 1
Step 2
Step 3
Step 4
Step 5
Step 6
Step 7
Step 8
Step 9
Step 10
Step 11
Step 12
Step 13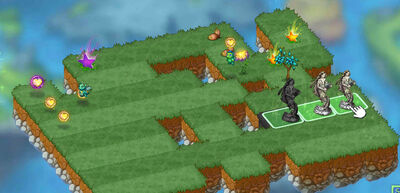 In the original Mazza Studios version, Super Dead Land used to require 10000 essence to heal, instead of reading "Immune". This used to cause some players to get stuck, thinking Super Dead Land needed to be healed with Life Essence, which would take an improbably long time.
This page was created by this post.